With a view to increasingly automating business processes, Agevoluzione has created AGEDOC, a centralized management-document able to keep track of the progress of work activities and of all digital material both for its customers and for its customers. The platform is designed to be a software in Cloud format accessible remotely through a web interface directly connected to the company's wordpress site, thus also facilitating agile work with smartworking to counter the spread of covid.
AGEDOC is structured with login access that guarantees the same privileges that the user has in the company network, to standardize policies in a single procedure.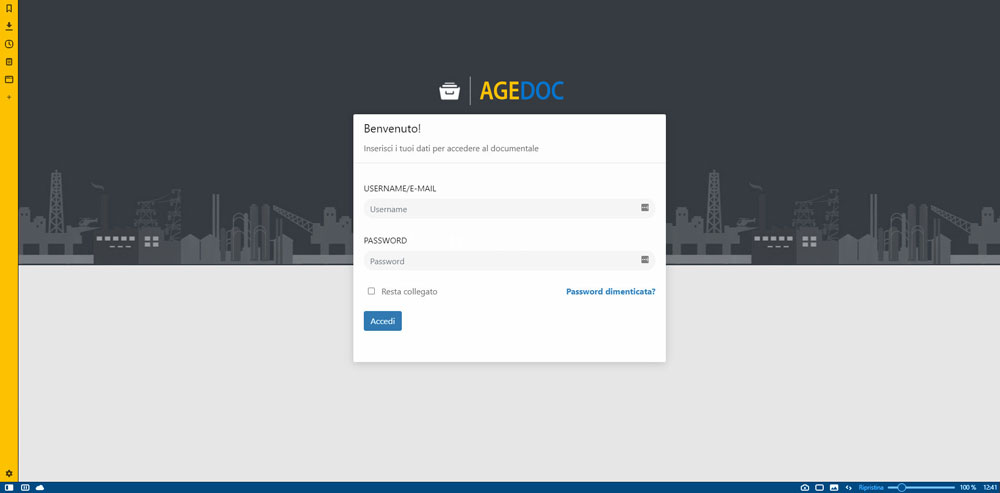 AGEDOC is a CRM able to simplify the management of your employees and business documents, thanks to several solutions:
Cloud version, remotely accessible
Standalone version, accessible only within your company
It is an all-in-one platform, able to offer many features to your company, to streamline all file management procedures and business resources, in a single platform.
La piattaforma dispone dei più recenti meccanismi di backup, per aumentare la tua sicurezza ed evitare possibili disagi dovuti ad attacchi informatici. È una soluzione studiata per aumentare la produttività aziendale, gestire tutti i documenti, gestire i clienti e collaborare con i propri dipendenti. Uno strumento "chiavi in mano" che permette ai dipendenti di sfruttare appieno le potenzialità dello smatworking.
The platform has the latest backup mechanisms, to increase your security and avoid possible inconvenience due to cyber attacks. It is a solution designed to increase business productivity, manage all documents, manage customers and collaborate with their employees. A "turnkey" tool that allows employees to take full advantage of the potential of smatworking.
All your files will be safe and you will have many features/operations available. You can keep track of all versions and/or changes over time and manage permissions so that only certain users can access them.
Through the appropriate plugin /module, you can share documents with external users in total safety, by assigning a password.
You can also implement the locking/unlocking mechanisms of files, assigning specific permissions that allow you to view only files for which you have access.
AGEDOC has simple graphics inspired by material design, the features are simple and intuitive. The drag and drop function is default to facilitate loading making it faster.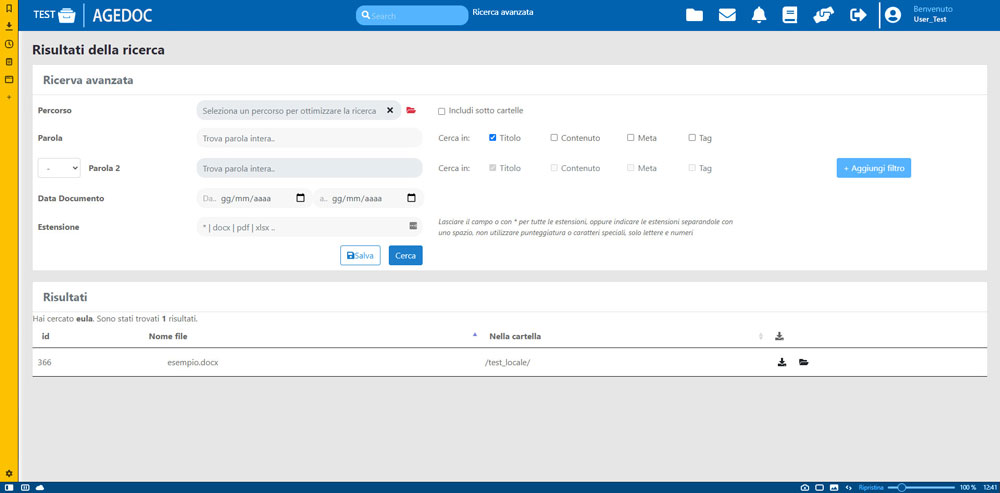 Advanced Google style search! We have developed artificial intelligence algorithms that can search your files/documents exhaustively and in a very short time. You can search for files by extension, tags, modification date, file location, words in the text. You can also save the search template and use it several times within the CRM!
File sharing is simple and immediate thanks to the AGEDOC module! It will only be necessary to select the file, press the relevant button and in less than two clicks it will be available to interested users, but without neglecting the security.
Safety first of all! Our CRM platform has been developed to be secure, both in cloud mode and in local standalone mode. Administrators will have full access to the system with the ability to create infinite users, with different roles. It will therefore be possible to know at all times who shared what, with sophisticated log mechanisms and tracking. Safety is essential nowadays and with AGEDOC you can feel at ease!
AGEDOC has an Office plugin that allows you to further implement business efficiency; you can quickly upload a file and/or a version of the latter directly from the Windows program used. You can also create a folder by indexing its contents according to the permissions you own. With AGEDOC you will have a CRM that integrates perfectly with the main Office programs such as Word, Excel and Outlook!
Do you want more information about our AGEDOC CRM? We are at your disposal! We offer several license packages, both in the cloud and in standalone, based on your needs and the number of users who will use the platform. We will take care of the whole systematic part and make you an offer according to your needs.
Contact us at the administration address@agevoluzione.it, we will prepare a quote based on your needs. Our CRM is completely customizable to adapt to different needs.