The AGEduino project within Iot
It is a microcontroller board based on the Arduino project and designed to be able to communicate with the internet/ intranet through Wifi transmission. This card is the basis, the "beating heart" of Iot projects developed by Agevoluzione.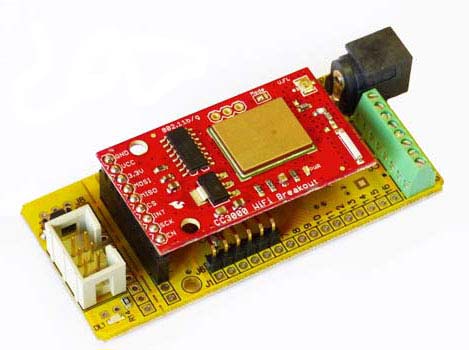 Are you interested in purchasing Ageduino?
Why Ageduino?
The Ageduino project is derived from the Arduino project and can use Arduino's libraries and IDE as the processor used is supported natively by the Arduino project.
From this it differs for some key features:
Small size: the size of about 52 27 mm allows easy insertion even in small objects. The reduction in size is achieved without sacrificing expandability: all processor ports are reported on the 2.54 mm pitch connectors.
Increased capacity: the use of the 16 Mhz ATMEL Atmega1284p processor allows to maintain small size but at the same time to quadruple the available memory resources compared to Arduino UNO, thanks to its 128KB of Flash, 16KB of RAM and 4K of EEPROM. Arduino goes tight for you ? Recompile your application for Ageduino !
Due UART (seriali TTL):Ageduino is made to communicate !
WiFi Interface:Ageduino has a connector that allows the use of the Texas Instruments CC3000 Wifi controller. Thanks to dedicated libraries, Wifi communication management is easy and reliable.
Power supply switching:Thanks to the switching power supply Ageduino is ideal for projects that make energy saving their goal, and allows you to create battery powered devices that optimize the life. Ageduino can be powered in direct current from 5V up to 30V. In addition, the power supply is configurable to 3.3V, 4V and 5V to adapt to the needs of the user.
LED Driver: Four PWM outputs can control the drivers for LED light strips mounted on the back of the board. Create your own lighting project without adding any other external components.
Made in Italy:Italian quality for a product that is not only for the realization of prototypes, but aspires to enter the industrial embedded world.
Support: Agevoluzione supports Ageduino through the experience of industry experts. Develop on Ageduino, and you are sure to realize your product.
This set of features is not present in any Arduino-based project and therefore justifies the creation of this new project. In addition, Agevoluzione is available to collaborate to realize custom firmware and/ or hardware projects based on Ageduino.