PortRoyal – MKR Multi Sensor Board
€100.00
FEATURES
The PortRoyal board features a complete assortment of sensors for multiple uses.
Hardware Features
MCU Core:
ARM® Cortex®-M4+ CPU at 80 MHz
512 kBytes Flash
160 kBytes RAM
-40 to 85°C operating temp. (125 °C available)
Voltage range 1.71 V to 3.6 V
Low power modes down to 0.29 μA
Run at 84 μA / MHz
12 bit ADC up to 5 MSPS
NFC:
ST25DV64K

8192 bytes user memory
I

2

C interface
Sensors:
VL53L3CX proximity
IIS3DWB vibration
ISM330DHCX accelerometer + gyroscope
IIS2DH motion
IIS2MDC magnetometer
LPS22HH pressure
HTS221 temperature & humidity
IMP34DT05 audio
Descrizione
The PortRoyal Arduino MKR format board features a powerful Cortex M4 processor and a rich assortment of sensors from STMicroelectronics.
The board is compatible with Arduino IDE thanks to the STM32duino project or can be programmed with STM32CubeIDE and tools to unleash the full power of the MCU.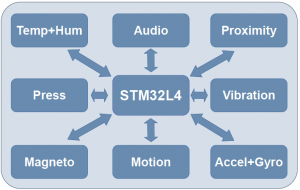 Target Applications:
24/7 always-on sensor processing at ultra-low power consumption.
IoT Battery powered devices
Environmental Monitoring
Smart metering, Industrial monitoring and control, Home energy management systems, Smart parking,
Smart Building, Building Information Management Systems